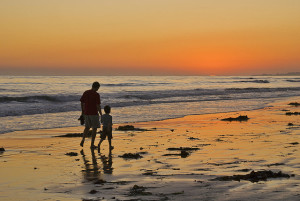 Often, in the busyness of life certain important areas of our lives get neglected in pursuit of the urgent. While this may be true of most of us, it seems especially true of leaders in general, and in particular, those called to lead the church of Jesus Christ and her institutions.
The truth be told, God does not want us as leaders to neglect the important areas of our lives in pursuit of building of His Kingdom. Instead, He desires that we learn how to balance doing His work with taking care of the important areas of our lives, because in His economy of things, they are not separated.
Last week I looked at two important areas that tend to get neglected when we get too busy doing the work of leadership: spiritual disciplines and self-care. This week I want to look at two other areas, which may call for you to begin anew by intentionally nurturing these areas in your life.
New Beginnings with Your Family
Family neglect is one of the most pervasive areas of inattention by leaders. When we get busy, the tendency is to take for granted the people closest to us. We rationalize by saying that our spouse, our child, our parents, our sibling or our good friend will understand. We begin to miss important dates or meals together, or we fail to show for special events. We get so busy chasing after the urgent that we neglect the important.
You cannot afford to neglect your family for any reason. Taking time to nurture family relationships is essential. Whatever your calling as a leader, one thing is certain, God will not call you to neglect your family.
Maybe you are currently putting off attending to your family, and you need to establish new beginnings for nurturing them. Maybe you need to start making it home on time for dinner at least once or twice a week. Maybe you need to try to make it to some of your child's games or concerts, which you have been too busy to attend. The neglect of the family by some leaders is so deep that the family has concluded life is much better when they are not home. It's not that they don't like you anymore, but they have learned to get along so well without you. Don't let your family become a victim of your neglect as a leader. Re-evaluate your values and priorities, and give your family their rightful place in your priorities.
New Beginnings with Accountability
More times than not when a leader fails, one of the things lacking in their life was accountability. Leadership without accountability is one of the most dangerous forms of leadership. All successful leaders with tell you they could not do it without creating a culture of accountability around them.
Maybe accountability was formerly part of your life as a leader, but in recent times you have become so busy that you no longer take the time to be accountable to anyone. You have been telling yourself you are too busy to take the time necessary for accountability. The truth is, you cannot afford not to participate in regular accountability with people who do not depend on you for anything.
Accountability helps to keep you honest and living in reality.
Maybe it is time for a new beginning in your life in the area of accountability. You have procrastinated long enough, telling yourself you don't have the time. Leadership without accountability is vulnerable leadership. You know from past experience when you have allowed yourself to be held accountable, you were much more effective as a leader.
Family and accountability are two areas that can be easily neglected when the busyness of leadership is allowed to take over our lives. Take the time today to make sure you are not neglecting your family or your need for accountability in your life as a leader. If you are, then today is your day for a new beginning.
If you would like help in achieving your goals in any area of your life, call us at 208-880-0307 or email us at errol@errolcarrim.com to schedule a complimentary coaching session. To read Errol's other posts, visit Christ-Centered Life Coaching.
Photo credit: Damian Gadal / Foter.com / CC BY