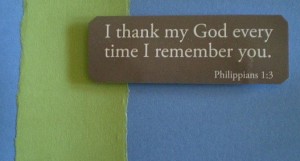 Wednesday, May 13th, marked the first anniversary of the start of my blog on Life and Leadership Development Coaching. I had no idea when I started how long it would last or how consistent I would be. During the past year, I have been able to post a weekly blog without missing a week.
As I reflect on the past year, I am indebted most of all to God who called me to do something I knew was way out of my league and a huge mountain to climb. But I live my life following the quote on a plaque that was given to me by very dear friend. It reads, "The will of God never leads where His grace cannot keep." These words have never been truer for me than during the past year posting a weekly blog.
That grace showed up in so many ways through the gifts and strengths of those God sent to help me where I was lacking in gifts and strengths. I am indebted to the wonderful team of people God has provided through the past year to make this blog possible week after week. From my first website designer, to my editors and those who have faithfully selected images and posted each blog, I say a huge thank you.
And to you my faithful readers who have appreciated, encouraged and helped me along the way to remain faithful and consistent with my blogging, I say thank you. Because were it not for your reading and feedback, there would no point to this blog. I trust you found much that was helpful and continues to be helpful to you both in your life in general and your role as a leader in particular.
As my team and I look to the next year, here is how we see things unfolding.
We need your feedback. In the next week, you will receive a survey from us asking for your feedback on the past year and what you would like addressed in the coming year in the areas of life and leadership development coaching.
Website. As you may have noticed already, we have been working to change some things on the website to make it more user friendly. We also are working on making the website a place you can find resources to help you grow and develop.
Focus. We want to maintain, and in some cases narrow, our focus on developing leaders, especially those in Christian service. We hope to continue to encourage, challenge and develop our readership in their roles as leaders.
We look forward to the coming year, open to what God is going to do through this ministry. Above all, we pray that this will always be a ministry that continues to demonstrate and be a witness to the amazing GRACE of God.
Thanks again for your faithfulness in reading and your encouragement for me to keep writing. You have all served as a testimony of God's amazing grace in my own life.
Thank you.
If you would like help in achieving your goals in any area of your life, call us at 208-880-0307 or email us at errol@errolcarrim.com to schedule a complimentary coaching session. To read Errol's other posts, visit Christ-Centered Life Coaching.
Photo credit: EvelynGiggles / Foter / CC BY