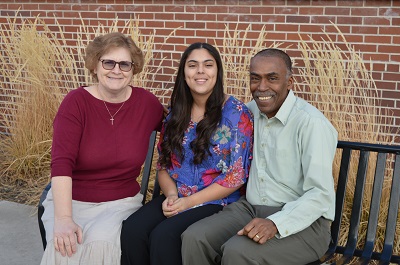 Today we presented our first official deputation[1] service as we continue following God's leading to South Africa. We are still trying to get our heads around the idea that God has opened the door for us to serve in the same institution He had called us to some 27 years ago. Although we did not make it to Nazarene Theological College South Africa (NTC-SA) back in 1991, here we are 27-plus years later, coming full circle to fulfill the call. At least we came in under Moses' record by 13 years. It only took him 40 years before he was ready to answer the call to do a task that was way beyond anything he could have done on his own.
While sharing our call to this mission, as well as the task and place to which God has called us, God was teaching me some things even as we were sharing.
God's call is never limited by our past mistakes. It is very easy to disqualify ourselves from fulfilling what God has called us to because of mistakes we have made in the past. It is also easy for others to disqualify us from responding to God's call because of our past mistakes.The reality is that God can take any situation in our lives and use it for His honor and glory because He is God.

Here is what we know: God did not call us to be perfect (that is, to reach some unimprovable state) because He knows we can't. However, He does call us to be honest because He knows we can. As long as we choose to walk in honesty and obedience to Him, there really is no limit to what He can do in us, through us and with us.

God will provide the resources for what He has called us to do. We have the tendency to approach the work of God with our limited view of how we see the current economy. As a result, we end up doing less than what He has called us to do.Let's trust God! Let's trust the God who has called us to provide what we need to do what He called us to do. There is no shortage of resources in God's economy. The question is, do we have the faith to trust Him to dream dreams that would scare us?
God has called the church, all the followers of Jesus Christ, to fulfill the mission of the Church. Our mission is to mirror Jesus' mission when he stated, "The Spirit of the LORD is upon me, for he has anointed me to bring Good News to the poor. He has sent me to proclaim that captives will be released, that the blind will see, that the oppressed will be set free," (Luke 4:18, NTL).Jesus sends all of His followers to be His representatives in the world, whether near or far, at home, across the street, or around the world. Each of us is called to join in this great work of God. No act of love is too small. No failure disqualifies us from loving God and neighbor!

The question I encourage each of us to ask ourselves is this: What am I doing as a follower of Jesus Christ that is resulting in the fulfillment of Jesus' mission and commission to us as his follower?
As we continue on this journey, we know there will be challenges and blessings, ups and downs, victories and failures. We may even be discouraged at times, but we will never give up or change course because we believe, "The will of God never leads where His grace cannot keep."
[1]Deputation is the term used for Nazarene missionaries on home assignment as the share about their ministry, seek to educate and inform churches about ministry that is be done around the world, and encourage continued prayer and financial support for the global ministries of the church.
 If you would like help in achieving your goals as a leader or in any area of your life, call us at 208-880-0307 or email us at errol@errolcarrim.com to schedule a complimentary coaching session. To read Errol's other posts, visit Christ-Centered Life Coaching.